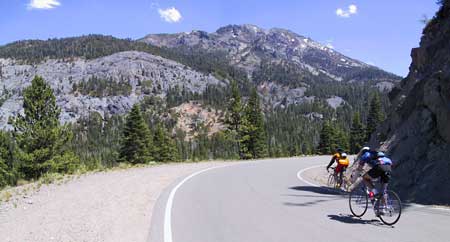 The descent off Ebbetts is very technical and to be ridden cautiously. This is where people often crash. Michael and I took our time.
At the lunch stop at the bottom we met up with Jeffrey (of Waganupa fame). He was in a jolly mood and took off while we were finding something to eat.
We began to get nervous about the time. The next cutoff was 5:15 at Pickett's Junction. It was mid afternoon and we could not dally.
As we shoved off I had trouble getting my shell stowed securely away, my Camelback on straight and my cleat covers off. When I looked up Michael had disappeared and I took off in chase of him. Where did he go? I rode for some time before I saw him way off in the distance pacing with another rider.
I despaired for this was a stretch of road where you can really work together and motor. I usually hammer on this stretch and arrive at Woodford's Canyon, a major climb further on, with nothing left. This year, I'd promised myself, I would take it really easy, and here was Michael making me work to track him down.
Then clouds parted and sunshine entered my life again—a tandem whooshed by and instantly I was on their wheel. I sat inches back from them in their slipstream and was surprised, as we passed rider after rider, that no one else got on. As we passed Michael I called, "Get on," he did, and we rode that train for miles.
There is a hill outside of Markleeville where all good pacelines die. As we hit it the tandem slowed and we skittered past, thanking them.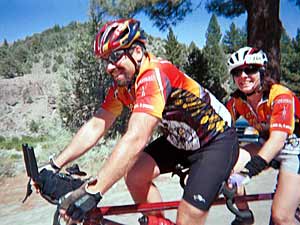 I took a picture of the blessed tamdem. They seemed to be enjoying themselves.
There is a big gap in pictures here. No shots of the dreaded Woodford's Canyon or the happy arrival at Pickett's Junction. We made the cutoff with time to spare, rested and moved on.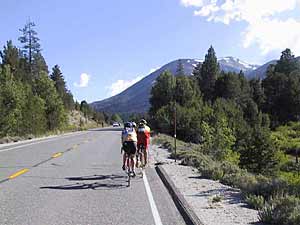 Michael and I rode together through Hope Valley which approaches Carson Pass, the fifth and final pass. A woman got on our wheel and very politely asked if we didn't mind her sitting in there. As the climbing began I discovered that Michael had been left behind. Here's a picture of the woman and I pulling away.
The woman, who's name I later learned is Lauren, asked me a couple more times if I was sure it was OK that she just sat there on my wheel. I didn't care. I got her to take my picture. Later I left her behind as the climbing got steeper.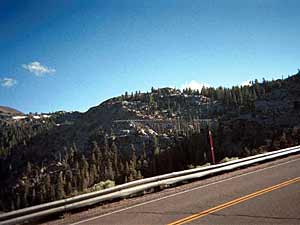 This shot shows the final mile or so to the top. Lauren caught me, moved ahead, and it was my turn to ride her wheel. After a while I couldn't maintain the pace, stopped to rest for a moment and then pushed on again.
Over the pass, I collected my fifth and final sticker. Then I stood rocking on my cleat covers, camera in hand, waiting for Michael to show.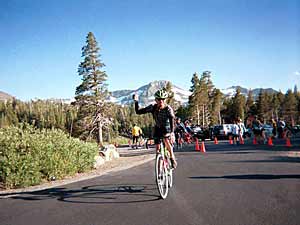 Michael arrives, bagging his second five-pass pin. Note the peak of Round Top directly behind him.