A visit to Madonna del Ghisallo
Friday, July 11, 2008. Near the end of a ten-day tour of Italy and the Swiss Alps, a group containing many New York Cycle Club members stayed a couple nights in Varenna, Italy, on Lake Como. From there they did a day ride. (All photos courtesy of Rik Aalders, who drove the van during the tour.) Click on any picture for a larger view.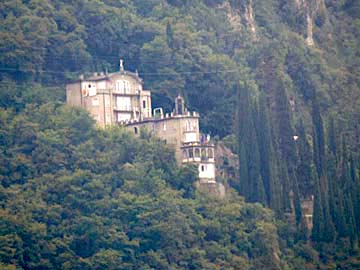 The group stayed in a hotel, converted from a monastery high up above the town. it required two funiculars to get to it—that or climb stairs up a cliff.
The view of Varenna below. From there they took a ferry across the lake to Bellagio where the ride began.
They buzzed along the lakeside to the city of Como, where they did a gratuitous, quite steep climb as they turned to cut across the peninsula to the other side. Later they timed lunch to coincide with thundershowers. More riding along the lakeside completed their loop back to Belaggio.
The crew poses (from left to right): Ted Shaw, Timothy McCarthy, Clay Thurmond, Sten Spruit, Oscar van de Brink, Marcy Bloomstein, Pieter Maessen, Edit Szalai, Rich Ramon, Tom Denham, Bill Greene, Ellen Medins and Mark Loftis.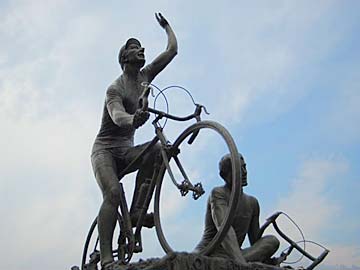 One of many monuments outside. There is also a splendid museum. Unfortunately it closed for the day right as the group arrived. Next time.
However, the chapel remained open and there was much to take in.
Jerseys of champions over the doorway.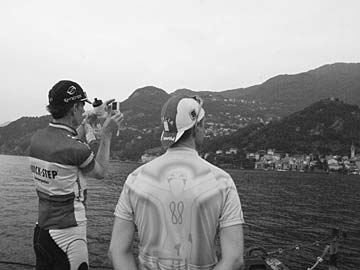 Afterwards, a breathtaking descent back to Belaggio for ice cream, then a ferry ride back across the lake.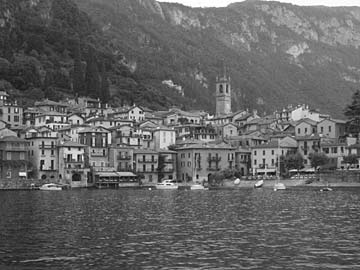 Lovely Varenna awaits with the monastery nestled in the hillside beyond.
That's all!