Wednesday, December 22, my father, my brother Patrick and I went to have me fitted for a custom made bicycle frame. We went to the shop of Bernie Mikkelsen in Alameda. He has made frames for Pat; Pat's wife, Vivian; and Pat's twin, Michael.
In New York I've been encouraged to get a new bike because my east coast bicycle is old and a bucket of bolts. I love it dearly but don't see much sense in trying to improve it; it's better to build a new bicycle from scratch.
I decided I wanted a steel frame and forks, I wanted it custom built and going to Bernie seemed logical for he is familiar, does great work, and I could conveniently order it while out here on vacation.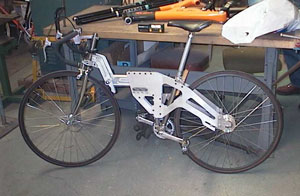 Click photo to enlarge
Patrick drove us to Alameda. We brought my Somec as a starting point for determining the design of the new frame. Bernie has made a bicycle sizer (pictured above). Seat tube angle, head tube angle, length, bottom bracket height, stem length, handle bar height; all can be adjusted and different combinations tried out by his customers. Bernie measured my Somec and set up the bike sizer to match its frame dimensions. Then we took it outside.
Click any photo to enlarge
After much evaluation I determined that the set up of the Somec felt the most comfortable. Deviations from its geometry didn't improve the ride. So the frame design Bernie drew up matches Somec with the head tube angle a degree less steep, which should make the bicycle more stable.
The frame will be finished in two to three weeks and shipped to me in New York.
Sorry there's not more pictures. I was so wrapped up in dealing with Bernie that I handed the camera to Pat and forgot about the details that I'd wanted to capture.