Friday, June 20, 2003, Donelle Point Overlook.
Pat's alarm went off before it was light out and we started stirring.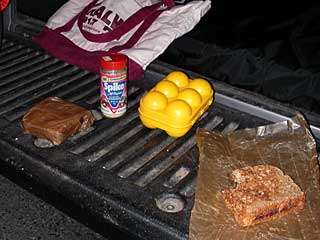 Breakfast of champions: hard-boiled eggs seasoned with Spike and peanut butter sandwiches.
This ride requires that you carry gear, water and snacks. Patrick straps a bag to his handlebars. There are no (underline that "no") shops between where we are now and the far point, Bridgeport.