Friday, July 10, 1999, the day before the event, drove up to Markleeville. Arrived at the end of the day and picked up we our numbers. We then went to Snowshoe campground, which is in Woodfords Canyon (along the route of the Death Ride), made dinner and turned in. Pat tells me he couldn't sleep. He had a bruised elbow that throbbed all night. I slept fitfully myself. At 3:30 we rose, ate breakfast and drove to the start area. Volunteers with flashlights direct the parking of the 2,500 or so entrants. It's quite a scene—the last minute preparations on the side of the rode in the chill and the dark.
5:30 AM. Our tires are pumped up, all our gear is on our bike or on our backs, fellow cyclists already buzz past. Pat's ready.
Timothy's ready. Time to hit the road.
The first miles are downhill into Markleeville, and on past, to a left turn onto the road that climbs to Monitor Pass. It is cold and we have all our long, warm stuff on.
Here we are, already climbing Monitor. We've shed our shells.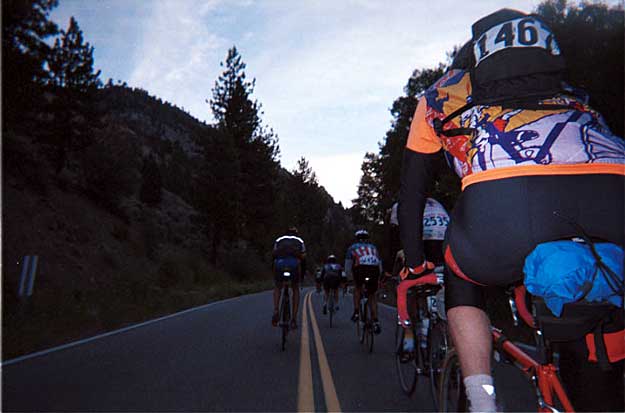 You need the warm stuff for the first few miles for it is quite chilly but once you're climbing you wish you could magically transport it back in the car. We carry our gear the entire distance, however, because we've been caught in unexpected thunderstorms in years past. Then the gear is precious. Being caught without I shudder to think about.
The day brightens and the road is crowded with the aspirations of many.