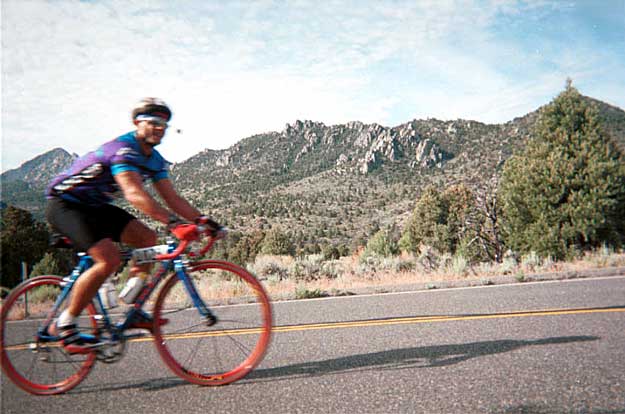 I'd worn my tights and arm warmers up over Monitor and down the other side, but now it was time to shed them. Pat and I pulled over. I snapped a couple shots from the roadside.
There were quite a few heroic couples on tandems. The day was warming up.
Halfway up there is a water station. It is manned by a local track team. I specifically wanted to capture this on film but didn't do a very good job. In this picture I am handing a water bottle to the white T-shirt clad youth in the upper right hand corner.
And that's him up the road. Impressive, the speed with which he sprinted.
As I roll up he's putting the top back on my refilled bottle. Without slowing in the slightest it's handed back.
It brings tears to my eyes. Every year they are out there. It may be different crew each year, but when there's a Death Ride, the relay water station will be there showing real Death Ride spirit. These guys epitomize the support the entire surrounding community gives to the event. Note the purple T-shirts. I kick myself again that I did not get a picture of the back of one. Letters on the back say "Skeleton Crew."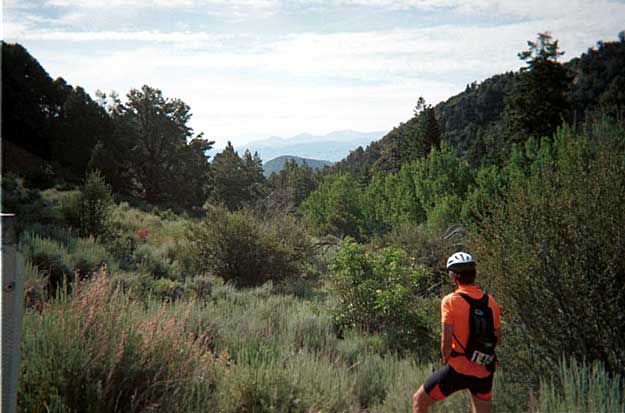 Around the corner from the water station Pat picked a scenic spot to take a piss.